Growing up made me realize that one thing most women always crave for is to get a smooth, glowing and even skin tone. However, most people have uneven skin tone to some degree, be it some slight darkening around the mouth or nose area, or highly pigmented spots or patches on the cheeks.

Not to mention, being born in a typically tropical climate, our skin is easily exposed to the direct UV sunlight and humid temperature all year round. However, is this the only cause of uneven skin tone?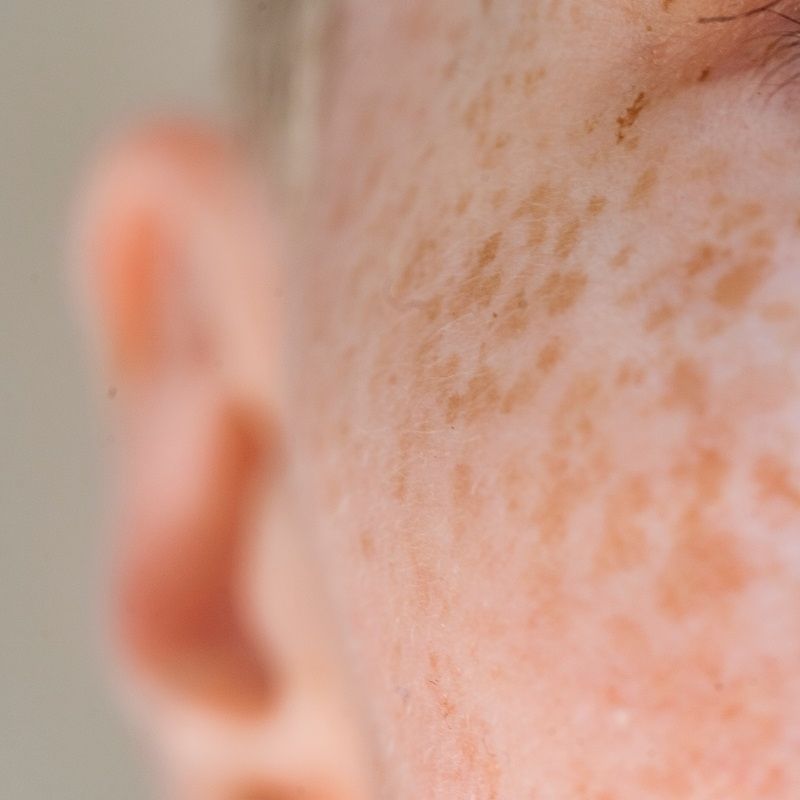 Let's read more to find out.

But first, what (exactly) is uneven skin tone?

Generally, uneven skin tone differs for everyone as every individual's skin type, texture and colour are unique. It consists of various signs such as hyperpigmentation, inflammation and slowed skin recovery. The reality is that most people will experience it at some point in their life.

Uneven skin tone can also be further affected by other skin conditions like breakouts, cuts, scars, age and access sebum production. It can also be caused by an underlying health condition such as eczema and rosacea.

One of the ways to treat your uneven skin tone is by first understanding it and how you can tackle it. So here are some of the most common causes of uneven skin tone and what you can do about it.

Causes of Uneven Skin Tone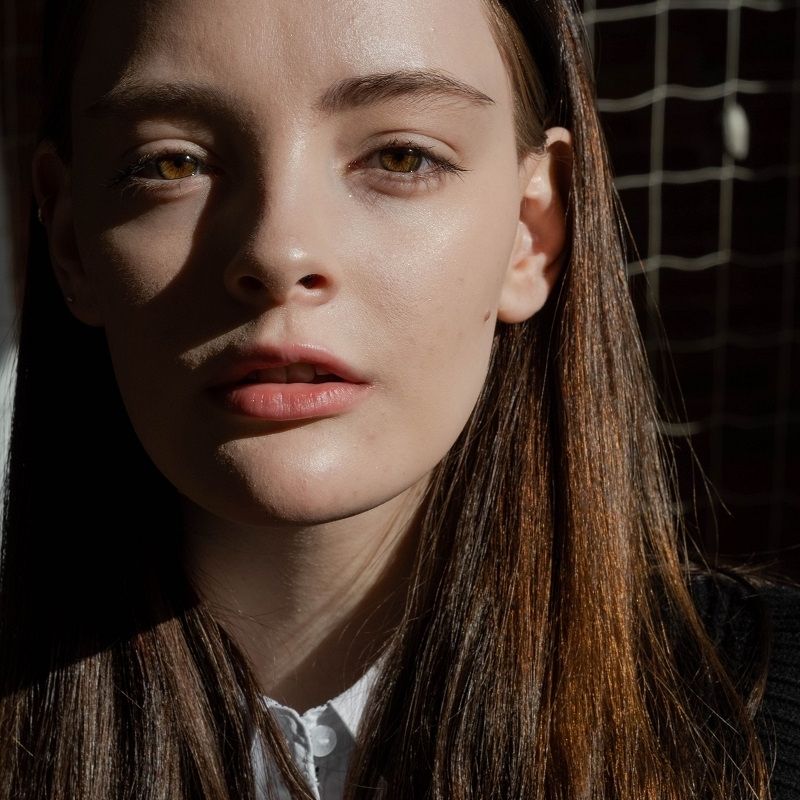 UV Rays: It is a well-known fact that frequent exposure to the sun is one of the major causes of uneven skin tone, especially in sunny Singapore. Excessive sun exposure or unprotected sun exposure can lead to sunspots and uneven skin tone. This could occur because the body produces excess melanin to protect itself from the rays.
Hyperpigmentation: Hyperpigmentation refers to an irregular darkening of the skin and it usually occurs when there is an overproduction of melanin. The appearance of hyperpigmentation on the skin – typically on the cheeks – becomes more prominent when they are older.
Hormonal changes: An increase in hormone stimulation can also cause uneven skin tone and the common signs of skin effects from hormones are melasma and rosacea. 
Scarring: Scarring from cuts, or acne scars can also cause uneven skin tone. Scars commonly appear as dark spots in the affected area due to inflammation caused by acne scars or scratching or popping our pimples. 
Ageing: As we age, some dark patches caused by sun damage tend to darken over time and are most noticeable when we are older. These dark patches are also known as age spots, which are commonly seen in people with lighter skin colours. It usually appears as increased pigmentation in small spots or patches in areas that have been most exposed to the sun over many years such as on the cheeks, shoulders, hands, arms, and chest. 
The road to even skin tone and texture starts with the right treatment; be it from home remedies, cosmetic treatments or skincare with the right ingredients.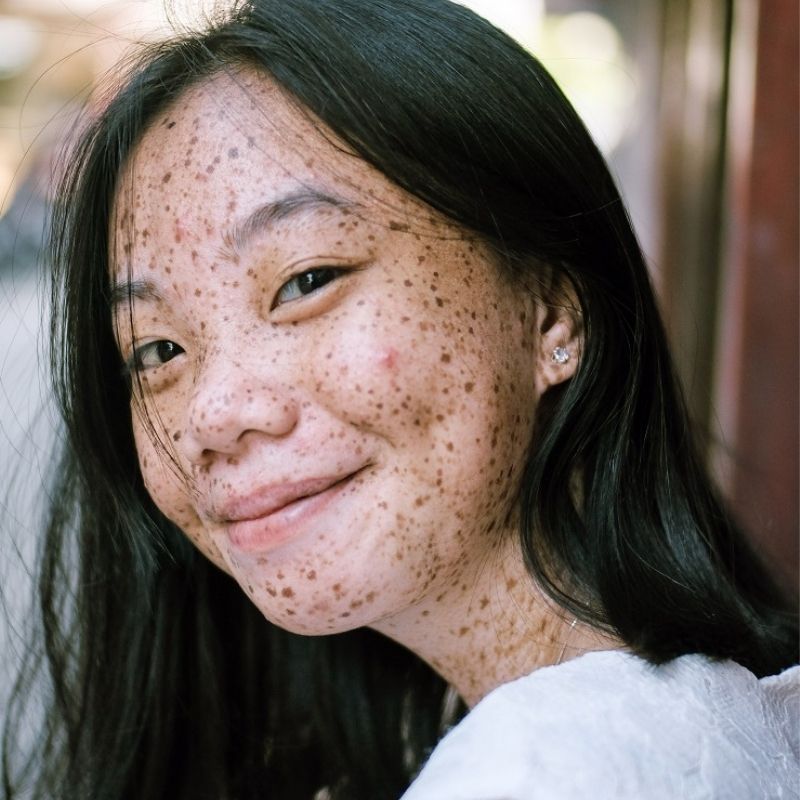 Below are a few tips to treat or fix the uneven skin tone that you can try starting today!

10 Tips to Fix Uneven Skin Tone

Home Remedies – DIY Facemasks!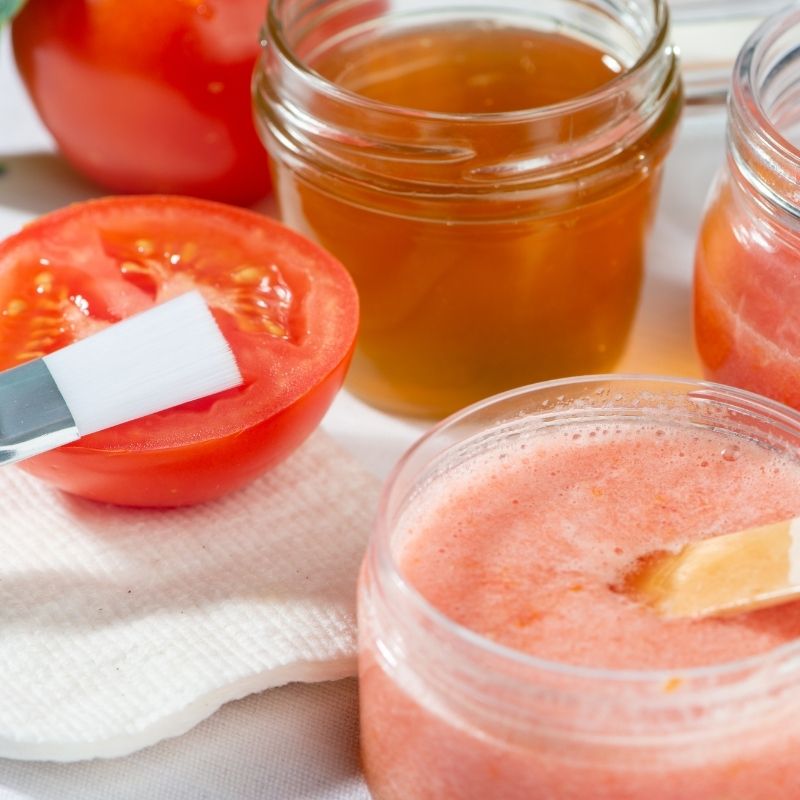 #1 Tomato Facial Ice Cube
This is the easiest home remedy that you can try and it works for many of us. All you need are 2 ripe tomatoes and honey or aloe vera gel (optional).

Here's how to do it:

Take 2 ripe tomatoes and blend it to a smooth paste.
Add in 1 tbsp of honey and mix it well (you can skip this part if you want).
Pour the mixture into an ice cube tray and freeze it for hours.
Take an ice cube and rub it on the face and leave it on for 5 minutes. Wash it off with cold water and see how your face glows, reduce bloating and over time, you can see major improvements in your skin tone.

You can also add some honey or aloe vera gel for added benefits to the skin.

Make sure to wrap the tomato ice cube with a cloth or kitchen towel before you rub it on your face to avoid direct contact with the ice.

#2 Yogurt & Turmeric Face Mask

The old but gold home remedy. I bet you've heard of this face mask year ago. And it would be such a waste if you have yet to try this DIY face mask.

Here's how to do it:
Mix ½ teaspoon of turmeric powder, 1 teaspoon of yoghurt and 3 drops of lemon juice.
Mix it all to form a smooth paste.
Apply to a clean face and leave it on your for 10-15 minutes.
Wash it off with warm water.
#3 Tomato, honey and lemon juice face pack
Another tomato DIY home remedy!

For this one, you only need one ripe tomato, juice from ½ a lemon and 2 tablespoons of honey.

Here's how to do it:
Blend one ripe tomato and add in the juice of ½ a lemon.
Add 2 tablespoons of honey into the paste.
Mix it well and apply it to your face for 10 to 15 minutes.
Wash it off with cold water and see how this powerful face pack treats your uneven skin tone!
#4 Potato Flesh

This powerful one ingredient pack has natural skin lightening properties that can help to correct your uneven skin tone.

Here's how to do it:
Cut a ripe potato in half and rub it over the blotchy areas on your face.
Allow the potato juice to remain for 10 to 15 minutes.
Rinse with warm water.
#5 Milk, Flour and Baking Soda Face Pack

The flawless white! Here's how to do this face pack:

Take 3 tablespoons of flour and 1 teaspoon of baking soda.
Add in some milk to prepare a paste. Any kind of milk will do, but I would suggest fresh milk.
Apply the paste to a cleansed skin and let it dry for a few minutes.
Wash it off with warm water and see how your face brightens over time.
Cosmetic Treatments:
#6 Laser Treatment

There are two types of laser treatments: ablative and nonablative.

Generally, ablative lasers are types of powerful lasers that cause controlled vaporization of skin cells and make our skin responds to brighter and younger-looking skin.

Nonablative lasers are gentler than ablative where it works by directing the energy much lower into the deeper tissue. If you're okay with getting slower results over a longer period of time and undergoing more sessions, this is the laser for you.

It is advisable for you to consult your dermatologist before you proceed with any laser treatment.

#7 Chemical Peel

For this procedure, a chemical solution is used to remove the upper layer of the skin through gentle exfoliation which in turn, it helps to improve our skin texture and the appearance of the skin.

Change Your Lifestyle

#8 Sunscreen, sunscreen and sunscreen!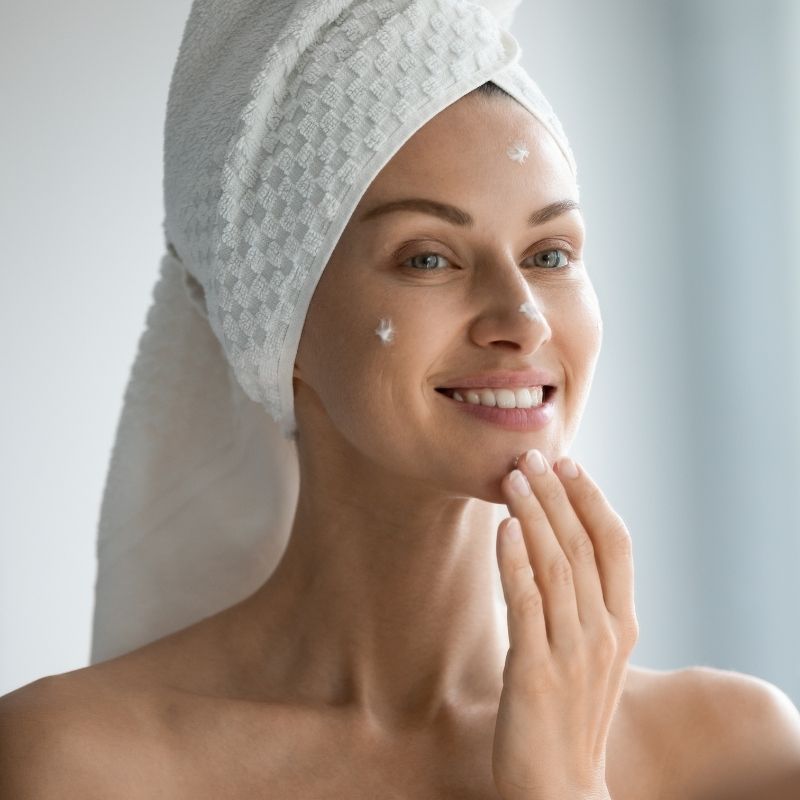 If you have not realised it, it is vital to include sunscreen as part of your morning skincare routine. Sunscreen should be at the last part of your skincare routine, and before you put on your make-up.

Even though you may have chosen a moisturizer with some SPF or your foundation is infused with SPF, you still have to put on sunscreen. Frequent usage of sunscreen also helps in keeping the age spots at bay.

My tips: Use it after moisturizer every morning and reapply every 2 to 3 hours or as needed.

#9 Stay hydrated!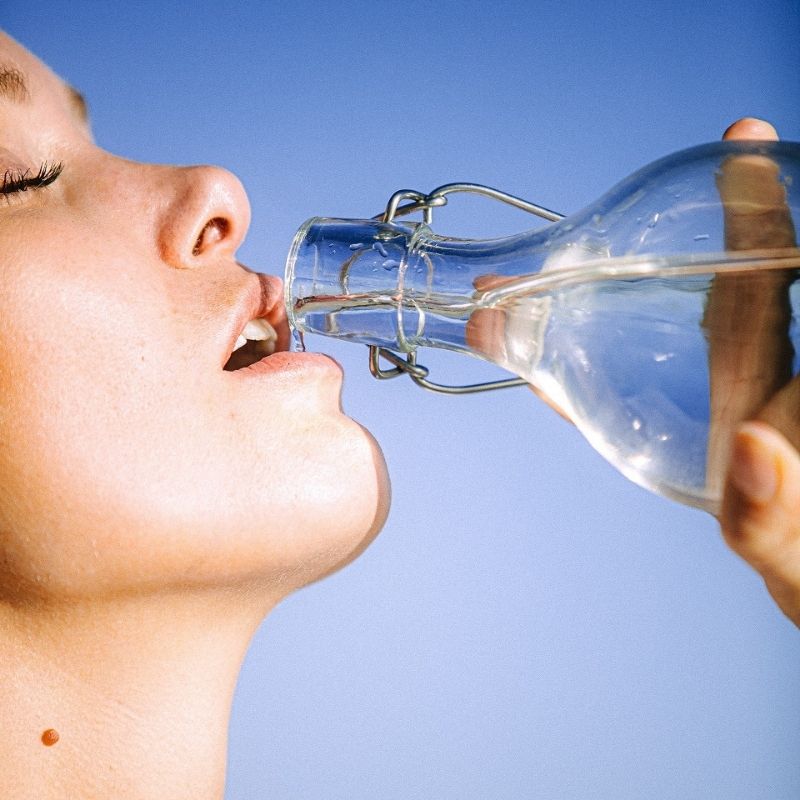 Drinking at least eight glasses of water helps to keep your skin glowy, replenishing the skin and reducing the early signs of ageing.

You should also avoid or consume less carbonated and sugary drinks as both can cause pimples and build-up oils.

Healthy Diet

#10 Food to Include VS Foods to Avoid

To get a healthy and glowing skin, it is advisable to drink green tea once a day or as much as needed as green tea is rich in antioxidants. You can also consume large quantities of fresh fruits and vegetables that heal your skin from within. Citrus fruits such as oranges and tomatoes reduce pigmentation and repair your skin cells.

Please avoid or consume less greasy or overly processed foods, spicy foods and foods that are high in refined sugars. You can also avoid dairy products if you have acne-prone skin.

It is also best to avoid alcohol as it dries out the skin and can lead to a flushed face.